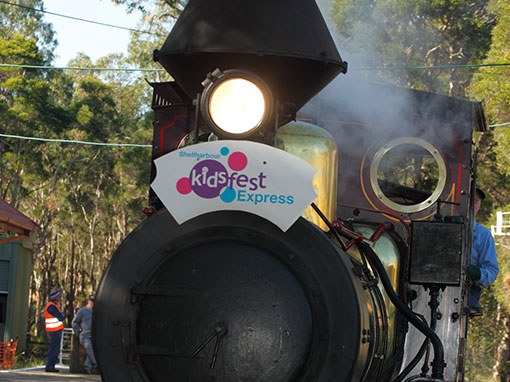 All Aboard the KidsFest Express
Illawarra Light Railway Museum
Bring the family together picnic, play and ride the steam trains. Call 1300 656 169 to secure your 1 hour steam train family pass. BYO Picnic.
Activities include:
Steam train and miniature train rides. NB Covered footwear must be worn on the miniature train ride
Symbio Wildlife Park Zoo2You- Meet animals and reptiles and see how the Illawarra Credit Union's Wildlife Saver program helps protect our natural environment and endangered animals
"Be Inspired" Creativity Party. Come and be arty and crafty with Early Years Care
Music 'Jam n Bread'- Come and jam on amazing instruments made from recycled materials
Your Imagination and the Stories It Tells with Cindy Russell 11-1:30pm
Circus Play Zone with Honora
Help artist, Anita Larkin, create a tactile maze through the trees with yarn, objects, and fabrics
UOW Motorsport's Racing Simulator
Live performance by Grace Mae 10:30am and 12:30pm
Roo Theatre Company present excerpts from their upcoming musical 'Oliver' 11am and 1pm
Sensory Play Experience with Pearl Perfumery
Make a healthy fruit kebab with our friends from Housing Trust
Lantern making- help Bertie make some big lanterns for our finale parade at Killalea State Park on Saturday
Sunday May 20 10am – 3pm Ages 0 – 12
Calderwood Valley Circus Capers
Create a circus character, learn some skills, play in the circus zone & perform. This is a hands-on, interactive session for families that like to roll up their sleeves and have a go.
Calderwood Valley Sprout Hub, Corner of Escarpment Drive and Brushgrove Circuit, Calderwood
Monday May 20 9.30am – 11.30am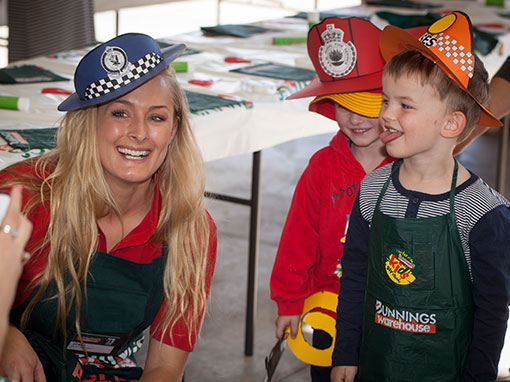 "Helper Friends" Emergency Services Expo
Meet emergency service workers from NSW Rural Fire Services, Fire Rescue NSW, NSW Police & NSW Ambulance. Kids will get to crawl through a smoke house, try the fire trucks powerful hose, climb inside an ambulance, sit on a police motor bike and make their own Emergency Services helmet with Bunnings. Free sausage sizzle provided by Bunnings.
Illawarra Rural Fire Service Control Centre
37 Airport Drv, Albion Park Rail
Tuesday May 22 10am – 2pm
Magic Show with the amazing Daniel Dwyer
Dress up as your favourite costumed character and help save the day, as Daniel uncovers some cheeky, mischievous magic toys that threaten to make a big mess. Party games, modelled balloons and seedling planting will follow the show.
Ravensthorpe Guesthouse & Restaurant
56 Tongarra Rd Albion Park
Wednesday May 23 10.30am – 12 noon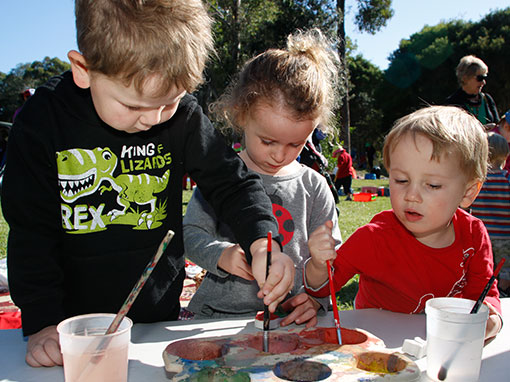 Communities for Children Picnic
Blackbutt Forest Reserve; Enter off Shellharbour Road. Some parking onsite and in side streets off Woodlands Drive.
Come along and help the Mayor of Shellharbour celebrate Paint Shellharbour REaD's mascot Bangu's 2nd birthday. Enjoy free activities such as Paint Shellharbour REaD's Reading Tent and Art Activities, face painting, art and craft, reading, ball games, Inspiring paint party with Early Years Care, Live Butterfly House Experience, Wollongong Conservatorium's ChiME music activities, Park and Play, SCC Road Safety Officer, Munch and Move, Billy Back Pack, Barnardos Play Ranger van and much more.
Bring a picnic, hat, sunscreen and rug. Check website for alternative location in case of bad weather.
Thursday May 24 10am – 12 noon
'Love Your World' hosted by Early Years Care
Come and join in the fun and get back to nature with many hands-on activities to encourage sustainability and outdoor fun, nature craft, healthy treats, music, make a clap pot and plant a seed, Live Butterfly House Experience and maybe some animals!  Don't forget to wear clothes that you don't mind getting dirty in.
Blackbutt Youth Centre, LOT 201 Cygnet Ave, Shellharbour City Centre
Friday 24 10am – 12 noon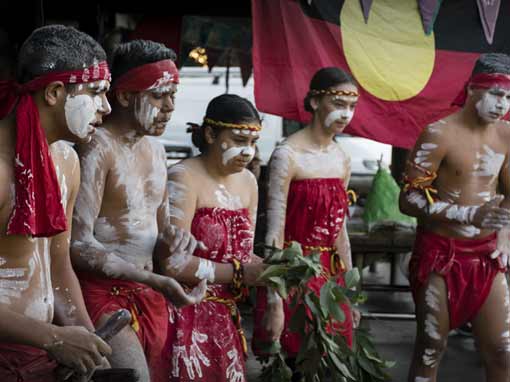 KidsFest Finale at Killalea State Park
Killalea Camping Ground, Killalea Drive, Shell Cove
Come and Try Activities from 2pm-5pm
The Scouts Climbing Wall
Craft, reading and visit from Bangu with Paint Shellharbour REaD
Meet the Frog Man & the Shellharbour City Council's Environment team
Live butterfly experience with Butterfly House Experience The Illawarra.
EARLY YEARS CARE Creativity station-Make your own creature or art work from recycled materials
Junk Kids Koutoure- create your own fantastic costume creation from recycled materials & then parade the outfit you created. We'll have sewing machines and sewers on hand to help you create your outfit – be it a giant carrot or a sparkly jumpsuit. BYO old clothes, fabrics and inspirations.
Beat Construction with the Wollongong Conservatorium of Music
UOW Motorsport's Racing Simulator
Sensory Play Experience with Pearl Perfumery
Explore your creative self with Da Vinci Art Studio
Circus Play Zone with Honora
Make a clay pot, plant a seed and sing a song with Marvellous Meg
Your Imagination and the Stories It Tells with Cindy Russell
Lantern making with Bertie- come make a lantern for our finale parade.
Saturday May 26 2pm – 7.30pm
Program:
Rhee Taekwondo 3 – 3:30pm
Zumba with Fernwood Fitness 3:30 – 4pm
Bollywood dancing 4 – 4.30pm
Roo Theatre Company present excerpts from their upcoming musical 'Oliver' 4.30pm
Welcome to Country and Smoking Ceremony by Uncle Gerald – 5pm
Little Ngargens Aboriginal Dancers with Richard Campbell – 5.15pm
Join the Finale Parade – featuring lanterns, music & dress ups – 5.30pm
Damper cooking with Fred's Bush Tucker
Make yummy spicy potatoes with Pramila
Stories round the campfire with Richard Campbell
Star gazing with Wollongong Amateur Astronomy Club
FREE Movie Screening of local short film 'Protection' 7pm
Made collaboratively with children from public housing areas in the Illawarra 'Protection' uses a unique blend of film and animation to tell stories about childhood -inspired by the lives and experiences of the film's adventurous and often hilarious young cast.
Music around the campfire with Nick and Rick
Camping overnight – Bookings essential. Please phone 42378589 (Mention KidsFest to get 10% off). BYO tent, mat, sleeping bag, torch, food and drink.
Look at the program for timings and dates